The City of Glendale has a rich history that goes back to the late 19th century. The name Glendale was first introduced as the Glendale Grange was introduced, an individual farmers' association that was established in 1896. The Glendale Grange was donated land by two individuals, J.M. and Agnes Riddle right on Leetsdale Drive in hopes that a Grange Hall would be built. Glendale back in the early 1900s was dominated in the farming industry, from dairy farms to stock ranches. The Grange helped introduce water rights to the area so it could be further developed. In 1974, the Grange building was sold and plans for a new facility began. The Glendale Grange is no longer active but provided a great deal of success and credibility to the City of Glendale.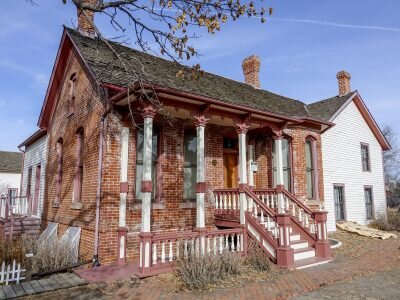 Another unique aspect of Glendale is Four Mile Park. Four Mile Park acted as a pitstop home along the Cherokee Trail- a trail to the California gold fields. The site of where this home was first constructed was originally a campground for Native people. It then further developed into a site for a home that was intended to be today what we would call an Air BnB. The constructed home provided services for those traveling through such as a warm place to stay and well cooked food to those traveling along the Cherokee Trail. This home is the oldest standing structure in Denver, it turned 160 years old in 2019!
The town was first incorporated and declared a town in the greater Denver area in 1952. Since the early 50's the population of Glendale has nearly quadrupled from 468 people to 5,170 in 2018. It has since become a residential area for many individuals who work in the city or in the surrounding office buildings in Cherry Creek and Glendale. What also sticks out about Glendale is the numerous outdoor spaces that are around. In the 850 acres of Glendale there are 7 parks and the Cherry Creek Trail. This is a perfect in-between of getting some city living with peaceful escapes walking distance from your door.
There is a lot of history that comes with the city of Glendale, the town has changed a lot. From a part of town that was created with farming to a suburb of Denver that is well known for shopping and parks. Glendale has a charm to it that invites so many residents to settle down. It is living in Cherry Creek without the Cherry Creek price. This suburb is minutes away from Cherry Creek North and provides easy access to downtown Denver and the I-25 corridor.
7 Parks Within .7 Miles
These beautiful 2 bedroom, 4 bath new-construction townhomes are located in the heart of Glendale, minutes from Cherry Creek North and conveniently situated halfway between downtown and DTC. There are 7 parks within .7 miles of your front door. Get what you have always wanted, in the location you have always wanted, all without the Cherry Creek price.
redT's property, Forest Park 12 is located in the heart of Glendale and is less than a mile from all 7 parks and the Cherry Creek Trail. These homes provide a perfect escape from the city and give you the best of Cherry Creek living without the Cherry Creek price.