Arboretum is a redT for-rent apartment community located in University Park, just a block away from the University of Denver campus. Arboretum offers 1 and 2 bedroom apartments for those looking to rent a new, upscale place to reside in University Park. The neighborhood is cherished for its authenticity and beauty— mature trees line the streets, and friendly faces fill the bars and coffee shops. Find coffee shops on every corner and historic districts pedaling distance from the front door filled with local boutiques and delectable restaurants. University Park ranks #10 out of all 25 Denver neighborhoods that Uncover Colorado rated and reflected on due to many activities, restaurants, and parks that fill the neighborhood. Arboretum puts you in a central location where you want to be so you can spend time doing the things that matter to you.
Let's take a peek at the future of Unit #304 at Arboretum…
2049 S. Columbine Street #304 Denver, CO 80210
*Keep in mind, this project is still under construction and these renderings do not represent the final product*
Living room rendering of Unit #304
Bathroom rendering of Unit #304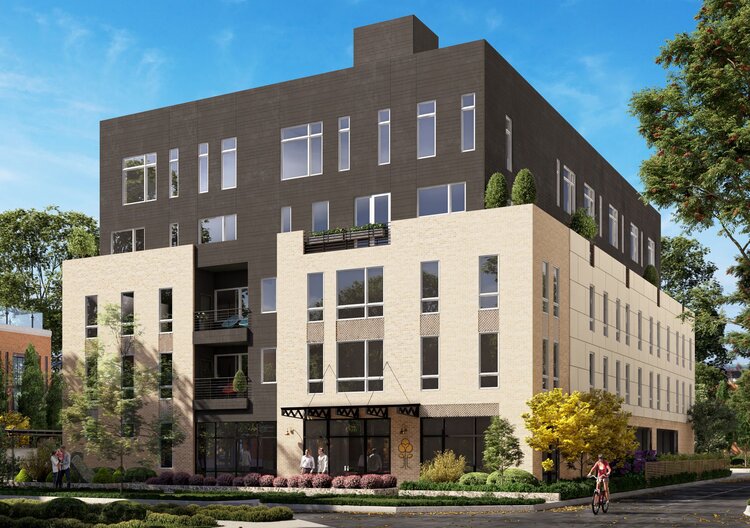 Exterior rendering of Arboretum
Unit #304 at Arboretum will be our staged unit; there are other units that are nearly identical to this exact unit and model the same floorplan. At Arboretum, you have many great shared amenities— as you are part of an apartment community. This unit offers an incredible amount of light and huge windows with views overlooking the tree canopy covering University Park.
Large Closet: Having a closet in your bedroom can clutter the place up, at this particular unit at Arboretum, there is a large closet on the outside of the bedroom that is much larger and spacious than what you would traditionally experience in a 1-bedroom apartment.

Roof Deck with Views:  On the 6th floor of Arboretum, residents will have access to a shared roof deck! There will be beautiful planters, a grill, a fire pit, and lounge furniture on the roof deck while showcasing beautiful downtown Denver views, the University of Denver, and the front range.

Unique Finishes: In a time where apartments seem to blend and look the same, Arboretum has unique finishes that make the project stand out from the rest. Unique touches such as two-tone cabinets with open shelving, under cabinet lighting, and custom light fixtures.

Dog Run: On the outside of the building, there will be a fenced and shaded dog run for your furry friend to go to the bathroom and run a couple laps!

Are you interested in seeing and learning more about this unit or others similar at Arboretum? Our sales team is available any day of the week to give you an exclusive tour! Discover home at Arboretum.