There is nothing like a Denver summer— the best part about dining out and about in Denver in the summer are the amazing patios that most urban restaurants have. They've got the perfect amount of shade, misters if you're lucky, and even better service that makes you want to come back time and time again. There is no better place to take in the beauty of Denver than to soak up the summer sun on one of the Mile High City's most spectacular patios with social distancing rules in effect!
Now to decide, where are the best patios in Denver? What neighborhood are they in? What is the immediate vibe you get as you walk in? Whether you are looking for the perfect place for a first date or a place to casually grab a quick bite, take a look at the list we have gathered for you to enjoy patio dining in various neighborhoods in the Denver Metro Area.
Acova: Lower Highlands
There is no doubt that when you are in LoHi you are there for the food, the nightlife, or the overall feel of the neighborhood. The classic feel that this neighborhood brings has expanded into every restaurant that sits in the Lower Highlands. At Acova, you will find yourself in a quiet corner of LoHi that is away from the busy streets to provide you with a true experience where you feel comforted and in private from everything going on in Highlands Square.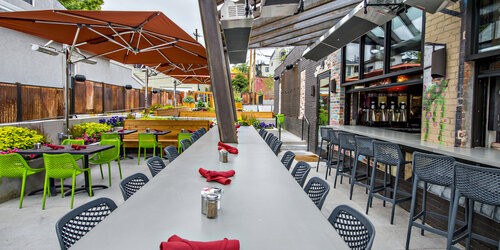 Acova Patio
Their patio wraps around the whole restaurant and takes a modern twist to outdoor bar seating! You will find concrete bar slabs under opening garage doors, these provide a cool take on indoor/outdoor seating. Whether you are looking for a little shade or a table under an umbrella, you will find a perfect medium that works for you!
Avanti: Lower Highlands
Avanti is the signature patio destination in all of Denver and by far one of the most popular destinations in the Highlands. This signature restaurant sits at the top of the hill right by the entrance to the 20th Street Bridge and overlooks downtown Denver. Perfect for lunch, dinner, or happy hour this is the dream patio in all of Denver!
This hot spot has 2 large patios; one rooftop and one main level with food trucks to serve you on the bottom level. Nothing like dinner and drinks with a view!
Avanti Rooftop Patio with downtown views
The Urban Egg is a local Colorado favorite for a delicious brunch. You could ask almost any long time Colorado resident and they will be sure to know the Urban Egg! This location in the Denver Tech Center has a beautiful wrap-around patio that is one of the largest in the Shops & Restaurants at Belleview Station. Sitting in an ideal location on the corner, there is more than enough patio seating! Spring, Summer, or Fall this patio can accommodate your needs as a hungry customer!
The bright yellow umbrellas that you will see off Belleview is the place you gotta go! Whether you are grabbing a quick bite on your own or taking your mom out for pancakes, get your perfect patio dining experience at the Urban Egg.
Denver has always been known for the local breweries and distilleries, and West Colfax does not let that theory live down! Out of all of the Denver Breweries, Joyride Brewing Company has one of the largest rooftop patios with gorgeous distant views of the Denver skyline and Sloan's Lake. There is no other brewery or restaurant in Sloan's Lake that gives off the views that Joyride Brewing does from their rooftop deck!
Discover living a lake life in the city and get the best of both worlds: a cold drink AND a view! Enjoy the cozy gas fireplace and the large overhead heaters for those nights when it gets chilly! There is no better rooftop patio in Sloan's Lake or West Colfax than the brand new one at Joyride!
Joyride Brewing at Sheridan & Byron Place
The Cozy Cottage is a Berkeley staple. Located right on Tennyson Street, this long time restaurant has been around since 2006 and has no intention of going anywhere anytime soon! Their patio is as large as their indoor seating and was made for people to enjoy brunch out on the patio, under the shade next to the adorable house that has turned to a restaurant.
The patio has multiple mature trees that surround it, providing people with the perfect amount of shade to enjoy their meal. Head on over to Berkeley to eat at this one of a kind gem on Tennyson Street that truly represents what Berkeley is about, community and tradition.
Cozy Cottage Patio on Tennyson Street