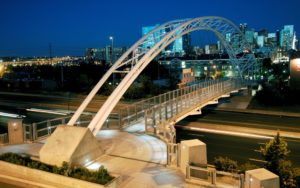 Some of the best things about the Denver Highlands is the unique history that built the Highlands up to the amazing, trendy neighborhood it is today. A neighborhood filled with one of a kind Victorian homes and brand new modern architecture, aside from beautiful places to live, you will find yourself surrounded with lush gardens and parks, to independently owned boutiques, galleries, and restaurants.
The neighborhood to love is the Highlands, it is the place to be! The Highlands is located between Speer Blvd and 38th Avenue providing easy access to I-25 and downtown Denver in a matter of minutes.
In this business district and neighborhood, you will find yourself surrounded by community. With a variety of people, stores, and restaurants, you are sure to find your forever home in the Highlands.
Our featured property, Kalamath 16 located in LoHi (Lower Highlands), you will be in a cozy corner of the Highlands! Get the walkability you desire all with the privacy of a traditional neighborhood. From your home, walk 1-minute up Kalamath Street and find yourself at Crush Pizza & Tap or walk around the block and find yourself at Bernabe "Indio" Franco Park!
Here are some of our favorite local shops & restaurants:
One of a kind restaurants + bars:
Linger is the Highlands signature restaurant, it sits up on the hill and is lit up with the old Olinger Mortuaries sign as a tribute to what the neighborhood used to be. They have an amazing happy menu that features a variety of delicious items from small bites to exquisite drinks. Catch happy hour Monday-Friday from 4:00 pm to 6:30 pm! Find $6 cocktails, $5 beers, and $5 food, nothing beats happy hour with a beautiful view of the Denver skyline.
Speaking of signature bars to the Highlands, we have Avanti! Get a fun twist on going out for drinks… At Avanti, there are a handful of delicious food trucks that are in Avanti itself! Get drinks from the bar and then grab a bite to eat. With 15+ local beers on tap, a variety of wines, and an amazing selection of specialty cocktails, you will find your favorite bar in the Highlands. It will be hard to miss, just get to the center of the Highlands and look up for the big black and white building screaming AVANTI!
Root Down
Get the best of happy hour, brunch, lunch, and dinner at Root Down. Indulge in happy hour Monday-Friday from 4:00 pm to 6:30 pm featuring select cocktails and eats. From Hibiscus Margs to Seasonal Sangrias to Colorado Lamb Sliders to Fried Shrimp Tacos the heat is on with these rockstar drinks and eats. Just a 10-minute walk from your home at Kalamath 16 and you're at Root Down. Sit down, relax, and enjoy your company.
Best Coffee & Ice Cream: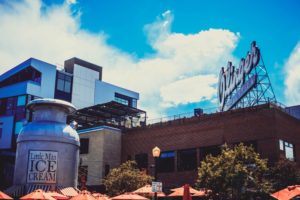 This signature spot to the Highlands is right on 16th Street and is famous for the giant milk jug shaped shop and some delicious ice cream. Located right next to Linger, this is in the heart of the Denver Highlands. This not so well kept secret has lines up to 2 blocks on occasion, but do not worry, it is well worth the wait and you will be happy to have this gem in your neighborhood! Open until midnight everyday of the week, you will always have your go to late night snack in mind.
Located just 6-blocks from your door at Kalamath 16 is Pinwheel Coffee. This adorable corner coffee shop on Navajo Street is the best coffee shop in LoHi. They have the best service, live music, coffee art, amazing burritos, and even better coffee. Come meet your new favorite neighborhood barista at Pinwheel Coffee!
An awesome place for some coffee and a quick munch, this shop is perfect for meeting up with friends, picking up coffee for the crew, or to get a little work done. Forget coffee and a pastry- go all-in with coffee and a fresh açaí bowl to start your day off right. This spot is perfect to hit if you are commuting to Union Station or crossing over the 20th Street Bridge to downtown Denver.
Discover LoHi Living
Nestled in a quiet corner of LoHi, one of the most desirable neighborhoods in the city, these spacious 1,2, and 3 bedroom townhomes are ideal for those seeking a balance of suburban and urban living. Walk to local hot spots like Avanti, Root Down, and Williams & Graham, or host a get-together on your private rooftop deck with spectacular views of the Denver skyline.